Description
Zinc Lozenges, provided by Douglas Laboratories®, supply bioavailable zinc, sweetened with sorbitol and flavoured with natural orange extracts. Each tablet contains 10 mg of elemental zinc in the form of zinc glycinate.

Indication: Zinc Lozenges may be a useful nutritional adjunct for individuals who wish to increase their intake of zinc.

Suggested Use: As a dietary supplement, adults take 1 lozenge every two hours while awake, or as directed by your healthcare professional. Allow to dissolve
completely in the mouth. Do not exceed 10 lozenges per day. Children over the age of 4 years may use half the adult dose. Prolonged use of more than seven
days in a row is not recommended. Consult your physician if you wish to prolong use or increase the frequency. When used on a regular basis, 1 or 2 lozenges per day may be taken for extended periods.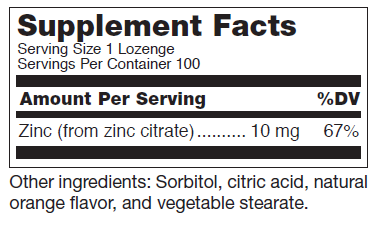 Cart
You cart is currently empty
By using our website, you agree to the use of cookies. These cookies help us understand how customers arrive at and use our site and help us make improvements.
Hide this message
More on cookies »