Availability:

In stock

(2)
Super strong! Every protected capsule of Ultimate Flora Ultra Potent contains 100 billion beneficial bacteria from 10 strains. This formula is ideal for those with chronic digestive issues and individuals who are using or have used antibiotics.

Ultimate Flora Ultra Potent is a 100 billion culture, 10 strain probiotic formula designed for those with severe digestive issues, those who have completed multiple rounds of antibiotics or for those who want to have the strongest probiotic available.

Ultimate Flora Ultra Potent contains therapeutic levels of both Lactobacilli and Bifidobacterium, making it the most complete and effective probiotic supplement on the market. Each capsule provides 50 billion active cultures of Bifidobacterium and 50 billion active cultures of Lactobacilli.

Ultimate Flora Probiotics are the only encapsulated probiotic formulas that can guarantee significant quantities of the probiotics contained will survive past the harsh, acidic environment of the stomach and arrive alive in the intestinal tract. Using a unique, water based enteric coating, we ensure that the probiotics are protected, yet still able to populate in the intestinal tract.

Directions for Use: Adults, adolescents and children 6 years and older take 1 capsule per day, approximately 2 hours after food. Take at least 2 – 3 hours before or after antibiotics.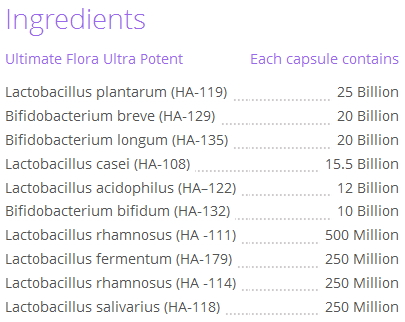 Vegetable Capsule: Hypromellose, water, aqueous enteric coating, FOS (fructooligosaccharides).

Ultimate Flora Ultra Potent contains no wheat, gluten, corn, yeast, additives or preservatives. Renew Life does not use genetically modified ingredients. All ingredients are Non-GMO.

ALLERGEN WARNING: This product has come into contact with milk and soy from fermentation ingredients. Do not use this product if you have a milk or soy allergy.