4 Vitamin D benefits & how to take it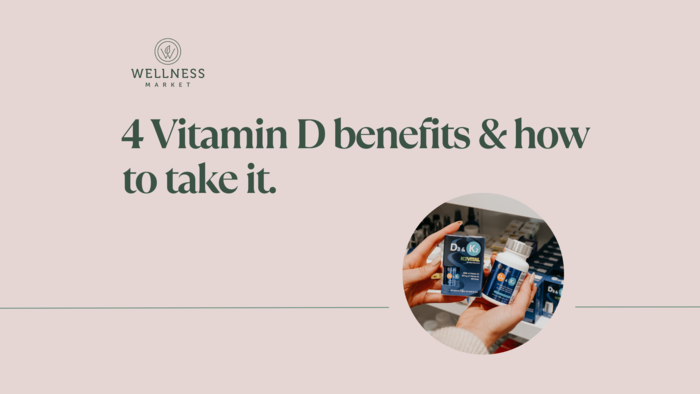 Did you know that 75% of the population are deficient in Vitamin D? It could take months to fix a vitamin D deficiency… So let's get started!
1. Strengthens your bone health
Vitamin D is known for its strengthening properties and increases calcium absorption in your bones! When calcium is developed, it assists in bone growth and helps to prevent bones from becoming brittle! 
2. Level up your immunity
Vitamin D can help the body build stronger immunity, by fighting off harmful bacteria and reducing severity (especially respiratory!). It can also help the body fight inflammation!
3. Healthy Heart = Happy Heart
Did you know that low levels of vitamin D are commonly linked to high blood pressure? These levels can put individuals at risk for heart attacks & strokes. Consistently taking a Vitamin D supplement can help to lower blood pressure levels, resulting in a lower risk of heart attacks & strokes. 
4. Lift up your Mood
As seasons change and we approach the darker and colder months, Seasonal Affective Disorder is real, and we've all been there. While consistently taking a Vitamin D supplement, it can increase the levels of serotonin in the brain.
Symptoms of deficiency include but aren't limited to:
Fatigue

Bone Pain

Weak Muscles

Frequent Bone Fractures
SIDE EFFECTS:
When taking a high amount of vitamin D (50,000-100,000 IU's) over long periods of time, you may experience the following:
Hypercalcemia:

This means you have too much calcium in your blood, which then can lead to kidney stones
*This happens in extremely rare cases while taking doses of 50,000-100,000 IU's per day over long periods of time. This should not be done unless supervised by a healthcare practitioner


RECOMMENDED INTAKE:
Adults: 1000IU /day, like this one
Infants + Toddlers: 400-500IU /day, like this one 
Be the first to comment...