Pascoe
Basentabs 100 tabs
An antacid containing alkaline salts that helps in the development and maintenance of bones.
Description
An antacid containing alkaline salts that helps in the development and maintenance of bones.

Features:
Proven high alkalinizing capacity
Free of sugar, gluten and lactose
Small, easy to swallow tablets
Each box comes with 21 pH test strips
Directions: Adults: Take 2-4 tablets 1 to 3 times a day. The tablets should be taken with plenty of water. Take with food.

Ingredients: 1 Tablet (= 560 mg) Contains:
Calcium carbonate 201.7mg
Sodium bicarbonate 160mg
Magnesium carbonate 120mg
Sodium phosphate, monobasic 20mg
Potassium bicarbonate 20mg
Zinc

Caution: Do not use if you are pregnant or on a low salt diet.
Avoid taking any medications within two hours before or after taking this product. Due to possible interactions, a time interval between the intake of BASENTABS pH-balance PASCOE® and other medications could be necessary. Consult your health care practitioner if you are taking other medications. Do not take for more than two weeks, or if symptoms recur, unless directed by a doctor. Individuals with kidney disease should not take this product except on the advice of a doctor. Some people may experience diarrhea.

How to use the pH test strip:
Collect fresh urine in a clean container. Tear off a test strip with dry fingers. Dip the test strip into the urine for 1 second, pull out, and shake off surplus liquid. The test strip changes colour depending on the pH-value on the moistened patch. Compare the colour with the colour scale within 2 minutes. Read the value, which is closest to the colouring of the test strip (reading accuracy: ± 0.1 pH). Dispose used test strip in the garbage. Your pH at particular times of the day should fall within the range given in the graphic. However, to evaluate the results of this test and how it relates to your acidity please consult a qualified health care professional.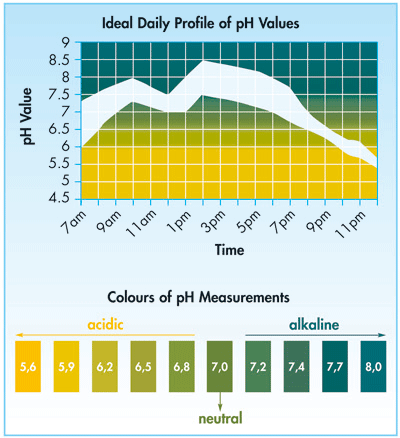 Cart
You cart is currently empty
By using our website, you agree to the use of cookies. These cookies help us understand how customers arrive at and use our site and help us make improvements.
Hide this message
More on cookies »